Dustin Johnson shoots a 65 on moving day at the 2020 Masters. His second round of 65 opened up a four stroke lead heading into today's action. I guess I am not really surprised at his score and I expect him to break the low score record of minus 18. He just needs to play his regular game and he will don his first green jacket and second Major. At this time, I am not sure anyone will catch him unless the slips on the again and lets hope that does not happen; right Brian?
Dustin Johnson shot a bogey free six under yesterday. He did not do anything spectacular or anything disappointing like Jon Rahm on the8th hole yesterday. Here is how Johnson navigated Augusta National on moving day: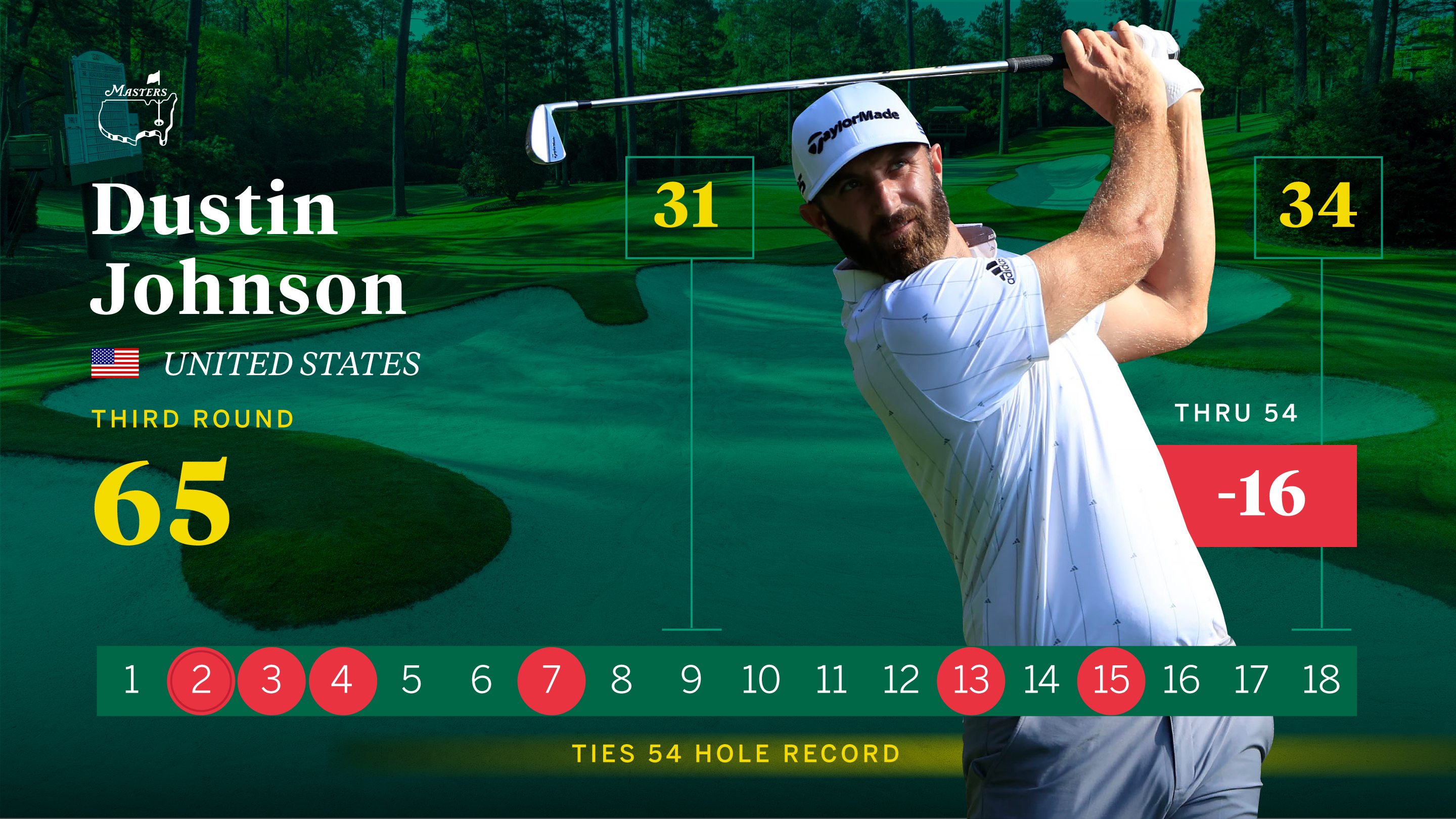 The strongest part of DJ's game was his driver. As usual, he was striping long and in play all day. If he continues to hit lasers today, he will be virtually unstoppable.
Today's action will be exciting and possibly dramatic. However, if DJ pars the first hole, he will ride that great start to Butler's Cabin.
I did notice many unfamiliar names at the top of the leaderboard. And interestingly, Abraham Ancer and Cameron Smith are the only two players to shoot all three rounds in the 60s. I guess that is why their steady golf has them tied for second at 12 under with Sungjae Im. I am not sure if any of these players can mount a charge to catch Johnson, but we shall see.
I always wonder what holes will be the most challenging for players to navigate on the last day. Everyone immediately thinks of AMEN Corner which is described as: "The second shot at the 11th, all of the 12th, and the first two shots at the 13th hole at Augusta are nicknamed "Amen Corner". This term was first used in print by author Herbert Warren Wind in his April 21, 1958, Sports Illustrated article about the Masters that year."
However in 2020, number 7 (nicknamed Pampas) is playing the third most difficult and number 5 (nicknamed Magnolia) is playing the toughest. Let us not forget number 18 (nicknamed Holly) is playing second toughest. If it comes down to the last hole to crown a winner, the one that does not make any mistakes will likely win. Regardless, there are several holes that can bite the players and playing smart off the tee will be the key. At this time, advantage goes to DJ.
The last day at the 2020 Masters is going to be fun to watch. There can be a great deal of drama and excitement …..or….. just another day on the links. What do you think?
I am a grateful golfer! See you on the links!