Care and maintenance of a golf course is an easy thing, right? Well, think about your yard and the amount of work (or not) you perform to keep it looking beautiful. Now, multiply those tasks by 1000%, then have all your neighbours come over everyday and critic your work. If you can envision this, then you are just dealing with the tip of the iceberg that golf superintendents deal with on a daily basis. Their love of their job has to outweigh the other "stuff they have to deal with" that most most golfers never see and should never see. A good superintendent is worth their weight in gold, great superintendents are priceless!
For the past 15 years, I have made it a point to get to know the superintendents at my home golf courses. My efforts to talk and try to relate to their trials and tribulations was sparked by my growing awareness of how important these small group of dedicated individuals are to the enjoyment of my daily loop around the links. Led by a superintendent, these nature artists seem to be everywhere any care and attention is required to keep their golf course in pristine condition.
I stumbled across this graphic that touches on some of the challenges that superintendents face on a daily basis. I want to thank Travis Olson, superintendent of the Kamloops Golf and Country Club, for the graphic. He was being polite when he left 'whining members' off the list, but I think that it is important that it is added. Members can be the most challenging of all stressors, in my opinion, and mostly because they do not understand the challenges of maintaining approximately 150 acres of playing area.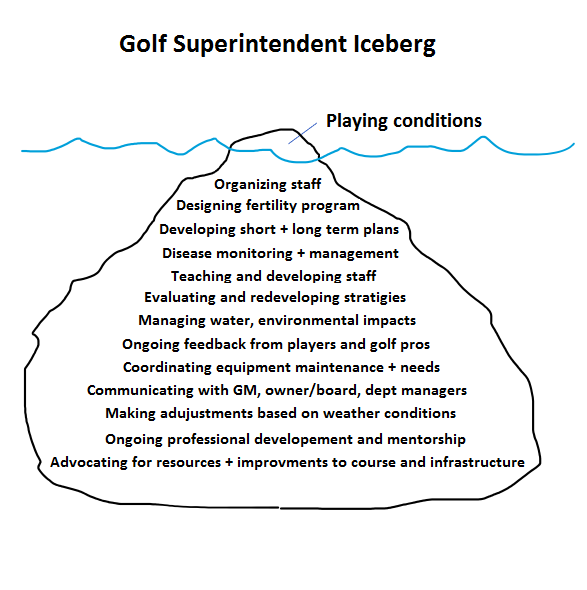 I remember Jeremy Sizer at Roundel Glen Golf Course working 16 hour days because the main water pump broke on the golf course during the hottest 3 weeks of the summer. He would spend hours in the middle of night watering the greens just to keep them alive. Darwin Howard carves out a lush course at Sequin Valley each year on the Canadian Shield. His efforts are amazing considering the harshness of the ground he tills. Craig Moody of Osprey Links Golf Course fought an entire season trying not to loose the greens last year because of a dreadful winter in 2019-2020. All of these amazing professionals toil tirelessly so that I and thousands of other golfers can play on a perfect field. It is a challenge and these superheroes need to be acknowledged and praised.
As a grateful golfer, I take every opportunity to pass on my thanks to the course superintendent. Whether it is my home course or not, I wave at the workers who keep the course in awesome playing condition. I do not wear rose coloured glasses when I say this because if I really want to find something that needs to be repaired it is there. However, instead of looking at the 5% of what could be better, I choose to look at the 95% of what is great. If only I could reach that stat in my own yard.
If you are hitting the links today or anytime in the future, take a minute to thank the superintendent or his staff. They will appreciate the polite words of encouragement. If you do not see any maintenance staff (which is a good thing because that means they are respectful of your space) feel free to drop into the Clubhouse and pass on a few positive words to the GM about the condition of the golf course. They like to hear positive comments as well, it is all part of being grateful golfers.
Thanks to Jeremy, Darwin, Craig and Travis for leading strong teams that allow golfers to enjoy their passion.
I am a grateful golfer! See you on the links!