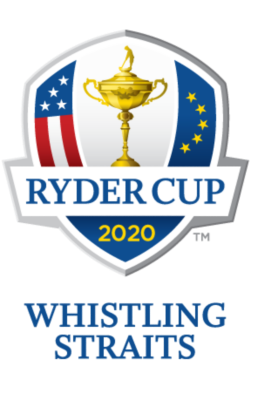 It is Ryder Cup week! Many golf fans are preparing for the fun and excitement as the defending champions, Team Europe, sharpen their game in attempts to win yet another trophy. This year's event will be played at Whistling Straits Golf Course, Wisconsin, United States. Pete and Alice Dye designed this amazing golf course and playing at just over 7300 yards, it will provide the perfect venue for Team USA to try and defeat Team Europe and regain the Ryder Cup. "Open, rugged and windswept terrain defines the walking-only, links-style Straits course sculpted along two miles of Lake Michigan shoreline" (Ryder Cup); normally, the host country would have home field advantage, but I am not so sure that this will be the case this year. Regardless, the golf is going to be exciting and I am sure not short of pivotal moments.
Captain's Steve Stricker, Team USA, and Pádraig Harrington, Team Europe, have built a their respective teams with the hopes that it will be strong enough to outlast their opponent. I realize that Team USA has its share of controversy (when does it not) on the selections, but I think that each Captain select players with intent of winning this year's event plus building for future events. At least that is what it looks like with all the new faces and first time players.
I cannot imagine the pressure that the Captains were under when selecting their four 'Captain's Picks'. The list of potential players was large and steep with talent. The challenge is to find players that can handle the immense pressure of playing in the Ryder Cup, plus be on a hot streak……if that is even possible to predict. Past performances are important, but how the player is performing in the past month is even more so! Hence, all the new faces of players seemingly at the top of their game.
Team USA is taking a different approach this year by selecting six rookies. Doubling that of Team Europe, Stricker has decided to take an new approach vice following the same failing plan of years past. Not winning the Ryder Cup since 2008, I support Stricker's move to shake up the Team USA establishment and go with some young guns that might infuse some much needed 'team dynamic' into the mix. I do not say this lightly, nor to be disparaging to previous USA teams, but Team Europe won many of their events because they had played, supported, and focused as a team instead of great individual play.
In the past three or four Ryder Cup events, Team Europe has demonstrated that they were the stronger team. As an aging athlete and coach, I can categorically say that team dynamics is the 'so what' factor that elevates average teams to become great ones. There always appears to be drama and dissention on Team USA and I am not sure if that is because of the media looking for something to report on or that the players preferred to play as individuals. Of course I am being an arm chair critic at this time, but Team USA is missing something that Team Europe has in spades. There are thousands of opinions on why, but regardless of the reason this 'unknown something' favoured Team Europe in recent history and Stricker is trying to change that with is captain's picks.
The Ryder Cup is a big deal in the world of golf. Now that it is upon us, all the second guessing can stop and we can support or favourite teams. In the past, I was a Team Europe fan. This year I think I am going to jump ship and throw my support behind Team USA. The reason for my change mostly has to do with all the rookies on the team. I like what Stricker is trying to do and he deserves kudos for heading in a different direction. As we inch closer to the first tee time on Friday, the real winners will be the fans. If past performances are any indication of what we should expect this year, than a fantastic time will be had by all the fans.
I am a grateful golfer! See you on the links!