Have you ever wondered if the Captain and Vice Captains of the Ryder Cup have any impact on the play of their respect team? The are high profile players who have played in the Ryder Cup in the past and are there to offer insight and support to players who might be feeling the pressure. Also, from time to time, they are people who are thrown under the bus for the loss. They are second guessed constantly and, depending on their personality, provide inspiration to the players. The history of the Ryder Cup is riddled with great Captains and Vice Captains and this year looks to be the same.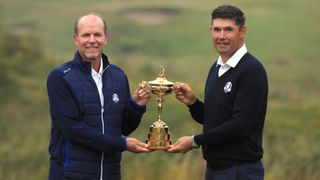 Steve Stricker and Padraig Harrington have their work cut out for them. Both are considered quiet, friendly, gentlemen who will likely motivate their respective teams through calm meaningful confidence. They will connect with their players on a personal level and try to empower each player to play their best or perhaps exceed their personal bests come came time. These Ryder Cup Captains fit the saying 'what you see is what you get' and except for some pundits second guessing their Captain's picks, everything is what it seems. The Vice Captains for Team USA and Team Europe are composed of complete opposite personalities and will likely affect their respective teams quite differently.
Harrington's Vice Captain selections look to set the tone for their team. Selecting Luke Donald, Robert Karlsson, Martin Kaymer, Graeme McDowell and Henrik Stenson, Harrington has chosen quiet, reserved, and fierce combatants. If you ever watched them play, these Vice Captains were very business like and except for Stenson (who seemed very intense about his game all the time) I expect their approach will be much the same. I like Harrington's selections because the more experienced European team do not need cheerleaders, but stalwart leadership that will stay on a steady and focused course. This year, due to the Captain and Vice Captain, I see Team Europe as a more reserved, focused team that will be more business than pleasure.
Stricker's Vice Captain selections of Fred Couples, Jim Furyk, Zach Johnson, Davis Love III, and Phil Mickelson offers a slightly different approach to his team. Stricker has a combination of 'calm and focused' and 'fiery and intense'. With six rookies and very young team, the Vice Captains will play a more influential role that those Vices on Team Europe. The team dynamics and individual personalities on Team USA will require a more deft approach to managing the overall team. For Stricker's team, the Vice Captains will make all the difference in managing the chemistry between relaxed and intense.
The one potential challenge for Team USA might be with Phil Mickelson. He is a larger than life personality and could overshadow the play of the rookie players. He is likely popular among the rookie players and is personal interactions could be a very influential factor. But Phil must have a presence without being 'the presence' for Stricker. Stricker is the leader and Mickelson will have to follow in order to execute the Team USA victory plan. It will be interesting to watch for sure.
The Captain and Vice Captains have an influence on the play of their respective teams. In recent history, Seve Ballesteros comes to mind, but I am sure there are may more. Now that the die has been cast, it is up to the 'leaders' of the team to influence play this weekend without overshadowing the players. It is a tightrope type of dance and I will be watching to see how well the perform what is asked.
I am a grateful golfer! See you on the links!