The 43rd Ryder Cup is upon us. As the first groups tee it up for one of golf's biggest events, many players will be wondering how to earn strokes against their opponents in order to score a precious point for their team. The decisions on when to take acceptable risks is always a precarious one, but it is something that ingrained the fabric of every golf tournament, not just the big ones! If you have ever played in competition, you were immersed in the pressure of risk/reward decision making, hopefully with some success. With Garcia, Rahm, Spieth and Thomas being the first groups out, they will set the Friday morning tone and battle for the critical first point!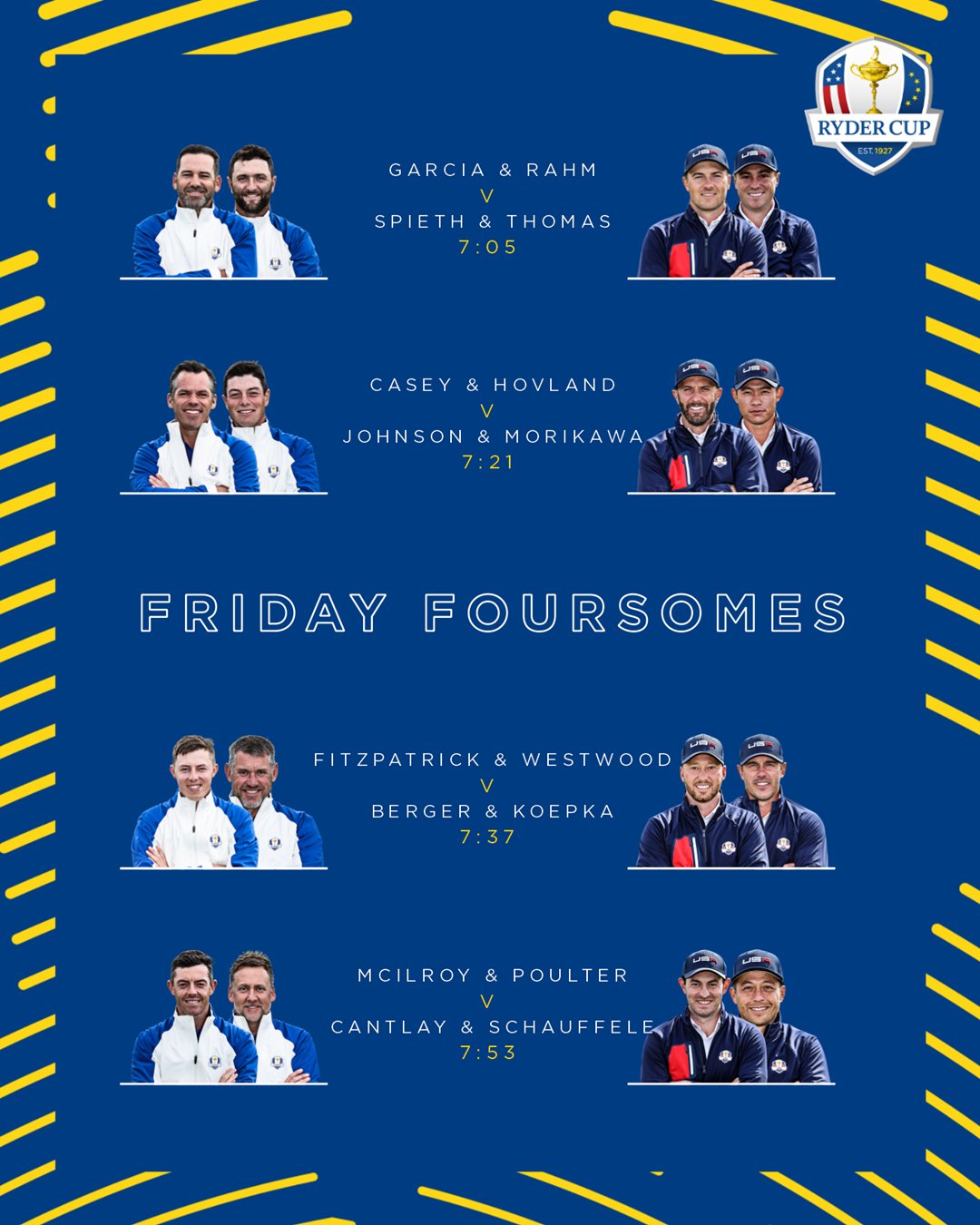 The morning pairing at the 43rd Ryder Cup are set. The morning format is called the four-ball. "In four-ball, each member of a two-man team plays his own ball, so four balls are in play on every hole. Each team counts the lowest of its two scores on each hole, and the team whose player has the lowest score wins the hole. If the low scores are tied, the hole is halved." (Rydercup.com)
In amateurs words, the morning pairings are playing a best ball, match play. I have played this before and the pressure is when one of the players is having a bad round and all the pressure to play well falls on the shoulders of one player. This format has a higher risk than reward for players trying to press any perceived advantage. As professionals, it might be different, but as amateurs making the impossible shot is less likely.
Of course my game would be completely different than those of the professionals, but there are always opportunities during a golf tournament to earn strokes on the field. In my case I have three areas that I focus on where I feel I have the best opportunity to pressure my opponents. In no particular order:
Playing Safe Shots Most Of The Time. This might seem like a no-brainer of a comment, but purposely stay within my abilities and hit as many greens and fairways as possible. I do not try to force my game in order to create an advantage, I let it come to me. This usually means I play for the center of the fairway and green as much as possible. I do not routinely pin hunt or cut corners, I remain patient for the right opportunity.

Pin Hunt From Only From Specific Distances

. I know my game. Generally, I will not pin hunt unless I I have an open avenue to the green and pin. The farther out I am, the wider the gap needs to be. The closer I am (usually 150 yards or closer), the more comfortable I feel going towards the pin. If I have a wedge in my hand, there is a very good chance that the pin is in my sites. This is not always the case because I do not deal in absolutes when playing golf, but I do weigh the risks on every shot. The closer to the pin, the less the risk…..most of the time. 😉

Maximize My Driver And Long Clubs

. This is were I cut corners, fly over trees, go for the green in two, or try to push my distances just a bit. This aspect of my game is the most risky. Anytime I press my distances I lower my changes of remaining accurate. This, obviously, poses other challenges, but during certain times it is a risk for a reward that I willing to take. When successful, I generally have a chance to go pin hunting or reach a par 5 in two. These opportunities are very selective and are used less than the other two.
As you can see, none of my approaches require any miracle shots or shots that are really outside my wheel house. I focus on making solid high percentage golf shots. Of course I am not always successful, but my intent is to let the field make mistakes so I can earn strokes. My strategy has worked before and hopefully will work in the future. For now, I will watch the opening groups of the Ryder Cup and see if when they press their situation go gain a stroke or two over their opponents. It should be exciting and I am looking forward to tracking the action.
I am a grateful golfer! See you on the links!