For those who may not be aware, my province initiated a stay at home order back in early April. Well, today they just announce the extension of that order until 2 June. This means no golf for another 19 days. Of course I am on the "golf is safe" side of the argument, but in this case my vote does not count. COVID has kick the stuffing out of many people and if my biggest worry is that I cannot golf for another 3 weeks, then my life is very blessed (and it is). Knowing what likes ahead, I was not surprised to receive an email from the GM of Osprey Links, Jeff Rogerson.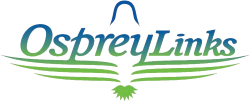 Just a few short hours after the government announcement, Jeff sent all members an email. He outlined the government's decision and explained that the maintenance team lead by Craig Moody will continue to main the course so they will be ready when the green light is given to resume play.
What impressed me about Jeff's email is that he was out in front of this disappointing news. This is very important to me because it the type of customer service I have come to expect from Osprey Links. As per normal, Jeff and his team exceeded my expectations and hence, I will continue to be a member for the distance future.
Until the lockdown is lifted, I will continue to work in my yard, swing my clubs, practice my chipping and remain grateful for all the blessings in my life.
I am a grateful golfer! See you on the links!