Golf is a particularity challenging game. As with most sports, the success on any day is impacted by a variety of stressors. As an amateur golfer, it is impossible to 100% replicated my perfect swing. In reality, most professionals cannot do that either, but obviously they have greater success. As amateurs, how do we fix our variable swing challenges? What are the answers to finding and repeating that perfect swing with consistent success?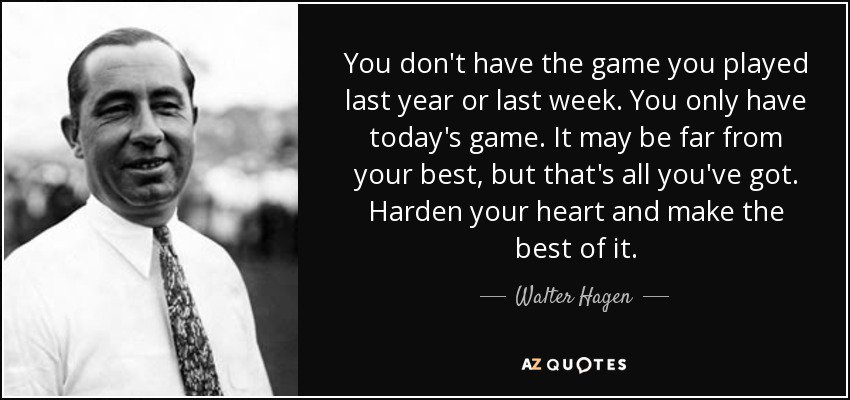 The first step to developing your perfect swing is to practice. Yes, this is a no brainer, but sometimes stating the obvious is important. If we never practice, the chance of improving our golf game is very low. This statement applies to virtually every sport and in our daily lives as well. This is no big secret.
The second step and likely an overlooked one is accepting the results of the day and working within them. Walter Hagen said it perfectly, accept and move on! There are days when I cannot miss anything off the tee; on those days I try to take advantage of my success by cutting corners, taking the shorter path, and hitting my driver where ever possible. My confidence is very high and as such so are my successes off the tee.
On other days when I struggle off the tee, I try to play as defensive as possible. My driver takes a rest and I always play the safe shot (even though it will leave a much longer approach shot). I fight my swing and I do not know why. I chalk it up to one of those days.
The point of all this is to play your game of the day. I learned, very painfully I might add, that forcing my game never works. There are days when the hole is the size of a hub cap and others that it is the size of a quarter. Regardless, I have learned to control my ego, adjust my course management, and accept what my game has to offer.
Walter Hagen is a genius, However, his pearls of wisdom are nothing new, but a reminder that in golf, everyday is different. So we need to approach each round or practice session with an open mind and a willingness to make minor adjustments to match our play.
Do you adjust your game to match your swing of the day?
I am a grateful golfer! See you on the links!