The goal of every golfer is to make every putt and it seems that Ernie Els feels the same way. I subscribe to this thought process believing that science can prove that every putt is make-able. Of course that does not mean that I will make every putt, but the possibility is always there.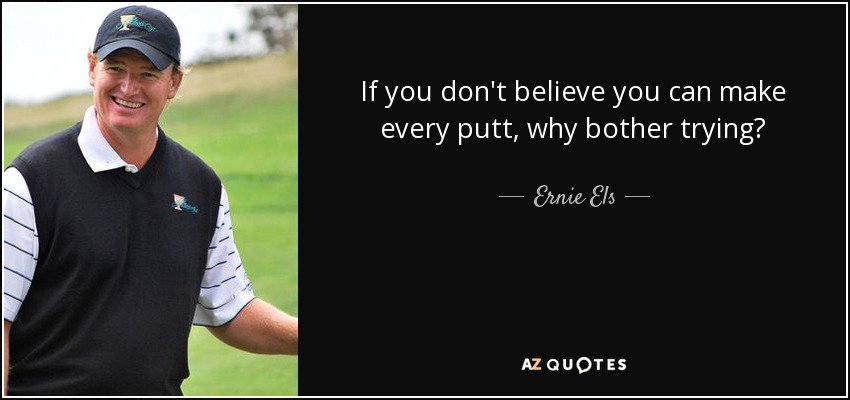 Keeping this thought in mind, I have played with players who are notorious lag putters and will always settle for a 2 putt and a bogey. Instead of charging the hole in the attempts to make a 1 and risk a 3 putt. How about you?
Ernie Els fundamental point is purely mental. His statement delves into the fundamental approach of how golfers approach putting. I am an aggressive putter being confident that I can sink every putt. This approach serves me well by increasing my short game with confidence.
Now, there is always the other side of any story and in this case, it deals with being a defensive or lag putter. It is an approach is designed to protect your score versus trying to shoot your lowest possible score. I will admit that during some rounds, I will switch to a lag putter on certain holes, but still try to sink the putt by just dropping the ball over the lip.
I think everyone can picture that putt when if offered a 2 putt, would pick their ball up and say thank you. But, playing smart on the greens is not the same as fundamentally being a defensive putter.
I can remember many rounds where aggressive putting has helped propel my score lower. Being aggressive set up many tap in second putts because I was not afraid to hit the ball passed the hole. Of course, I have left myself with some testy come back putts, but he odds were in my favour to make the only two putt. As stated earlier, this approach to putting is purely mental. Thinking I can make every putt allows me to hit the ball hard enough so it will travel at least 8 inches passed the cup, thereby always giving the ball a chance to go in.
To prove my point:
I realize that this approach does not fit will with some players, however it works for me. What kind of putter are you: aggressive or defensive?
I am a grateful golfer! See you on the links!