I set a goal this year to increase my distance off the tee by at least 10 yards. I believe, although I am getting older, that this distance goal is a reasonable milestone that I can achieve without having to redesign my entire golf swing. I think I have a fundamentally strong swing and as such I am looking to tweak minor aspects of my game. Fortunately, I was introduced to the three "T" to help develop power and possibly achieve one of my 2021 goals.
The three "T" comes from a video produced my MeandMyGolf.com. The produce many instructional videos that I use to increase my golf knowledge. This particular video focuses on Turn, Time, and Transition (three "T") of my back swing. I have discussed all of these important parts of my swing in the past, but have found them together in one short video. Here, take a look:
One of the important aspects of the video is that the explanation comes with simple, repeatable drills that will help achieve my goals. The knowledge provided by Andy is something I can use in the off-season to improve my golf swing. Additionally, I can measure my improvement by measuring the increase in my swing speed. I am really looking for an increase of about 5 mph to set my average swing speed around 100 mph. This is the first time I am using swing speed as a metric (because I can actually measure it now) and I think it is a good way to see the distance improvement I am look for.
Here is a great chart from Swing Man Golf that I will use as a benchmark moving forward: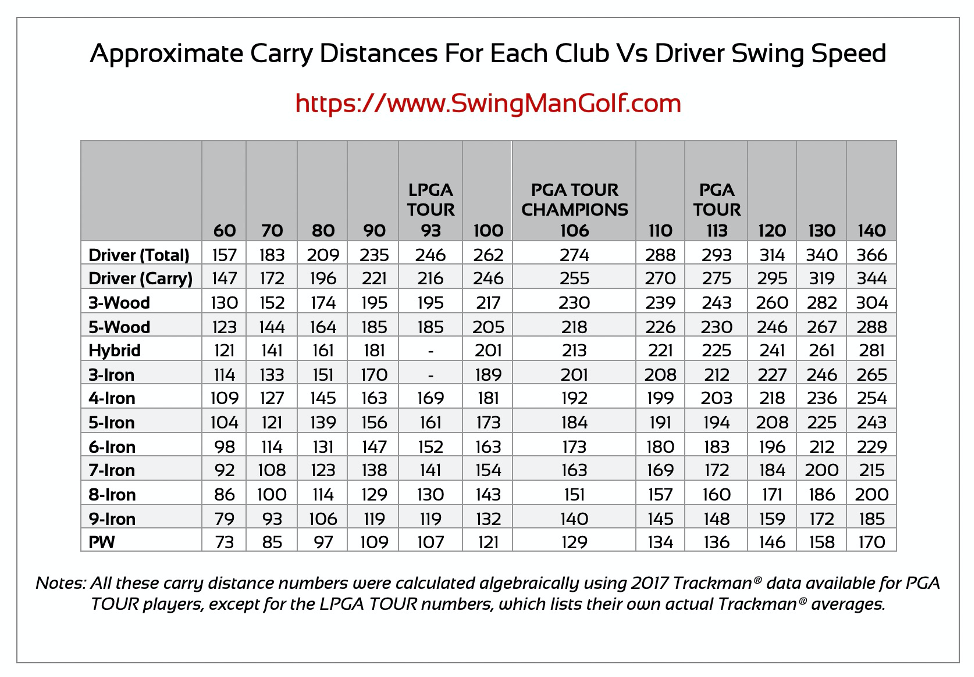 I think it is important to note that I am not on a relentless quest to improve my driving distance by 30 yards or something crazy like that; I am looking for an incremental improvement to relieve the stress off of other parts of my game. To do this, I need to keep my accuracy (which I believe is an important part of my game) and stay in play 80 or 90% of the time off the tee. No sense increasing my distance if I am hitting out of the woods, long grass or a hazard 50% of the time.
I am excited to hit my practice area and start working on the three "T". I think that they will help my overall game and improve my swing speed for all my clubs. These concepts are simple, repeatable and fit my current view of how to transition my golf swing to increase my driving distance my 10 yards. I will let you know in a few weeks how I made out.
I am a grateful golfer! See you on the links!