I like finding as much golf value for the buck as I can. I hunt for deals and try to stretch my money as far as possible. I think that most golfers are like me and spend their money at many golf stores other than at their local golf course. Over the years, I learned that if I take the time to talk the pro at my local proshop, I make an equal or better deal than I can anywhere else. In those cases, I save money and have instant access to the equipment I am trying to buy. Not only do I save money, but I am supporting my local golf course and that is just smart!
I have been fortunate to purchase wedges (at cost), shirts, golf balls, shoes, clubs, and rounds of golf. Most of the time, I save up to 10% off the cost and also the dreaded tax. So, that equates to savings of about 15% or more. This might not seem like much, but it adds up over the years. And this year is no different.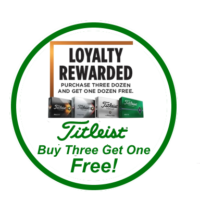 Jeff Rogerson, GM at Osprey Links, always offers deals if we are paying attention. Additionally, he is willing to discuss potential deals. All we need to do is just ask. There are no guarantees, but he is always someone I talk too before making a purchase.
This year, I saved money on my Golf Canada membership and I bought the 3 dozen get 1 free Pro V1x golf balls. The golf balls are offered on line, but there is benefit for both by buying them through my local course. For now, these are purchases I would have made anyway, but by going through my local golf course, they and I benefit from the deals. I am not sure what else I am going to purchase this year, but Jeff will on my list of people to talk too about saving money.
There is another aspect of any golf purchase that is often overlooked. That would be customer service. I find that my local course provides excellent service and although our proshop is smallish, there is great value to be found. Having a functioning proshop is very important, in my opinion, to the success of any golf course. It is a service that enhances the my golfing experience at any golf course. Hence, I think it is very important to support our local golf course to help build the success of the course.
Do you support your local golf course/proshop?
I am a grateful golfer! See you on the links!